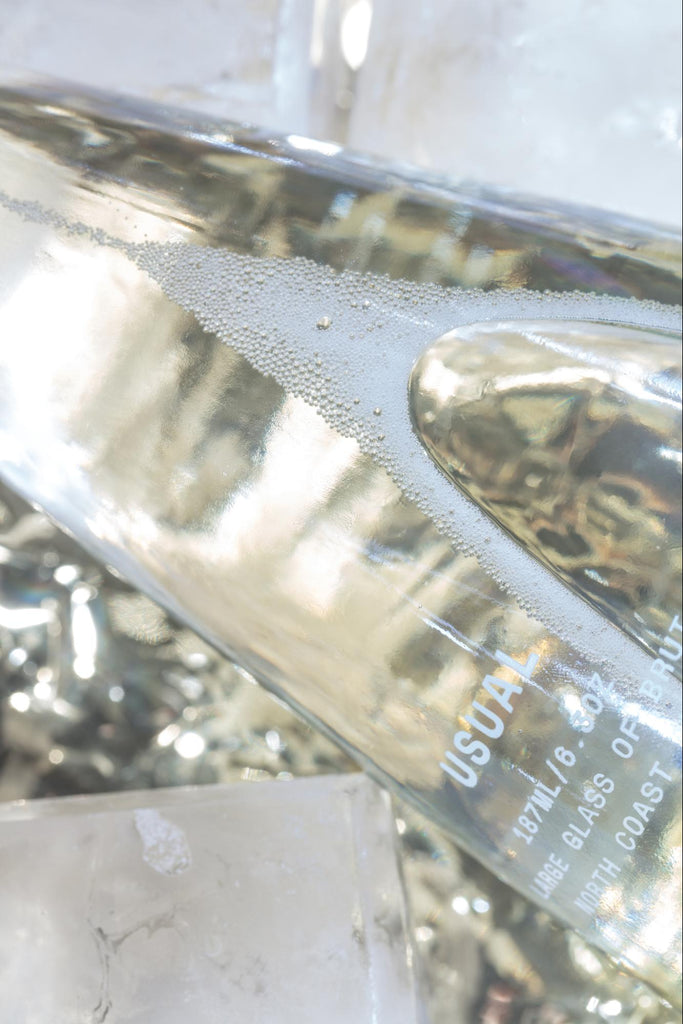 Types of Sparkling Wine: Is Sparkling Wine Usually Sweet?
McKenzie Hagan |
Pop, fizz, clink! Those three little words not only symbolize the ritual of popping open a bottle of bubbly, they also signify the celebration of life's best moments. And why wouldn't they? Sparkling wine is one of those cross-cultural crowd pleasers that always seems to put people in a good mood. 
So, it only makes sense that you'd want to learn more about everyone's favorite fizzy drink. Get ready to discover everything you need to know about sparkling wine, including how it's made, the different kinds you can choose from, and whether Champagne and sparkling wine are really the same thing. (Hint: They are, and they aren't. Keep reading — it will all make sense soon enough.)
You'll also pick up some expert tips on properly chilling and serving sparkling wine. Before you know it, you'll have everything you need to enjoy your bubbly like a pro. 
What Is Sparkling Wine? 
Sparkling wine is any fizzy wine made with carbon dioxide. Sparkling is a style of wine, not a specific varietal. As such, just about any wine — from white wine to rosé to red wine — can become a sparkling sensation. Sparkling wine can also be dry or sweet, depending on the winemaker. 
Sparkling wines are produced around the world, including in Old World regions like Austria, France, Spain, and Italy, and in New World regions including Argentina, Chile, Australia, New Zealand, and the United States. 
How Is Sparkling Wine Made?
The defining factor of sparkling wine is the carbonation. Those fizzy little bubbles are what make it different from any other type of wine. But how did they get there? Glad you asked.
While other wines ferment once after being harvested and pressed, sparkling wine must go through two fermentation processes. The secondary fermentation is what produces the bubbles. There are a variety of ways to handle this, but the two most popular methods are:
Traditional method (méthode traditionnelle):

Also called méthode champenoise or méthode classique, this method means that the second fermentation process takes place inside the bottle (where the sugars and yeasts are added), which results in smaller bubbles. Winemakers produce Champagne, Crémant, Cava, and Franciacorta using this classic method.

Tank method (cuve close):

Also called Charmat method or metodo Italiano, the tank method indicates that the secondary fermentation occurs in a large steel tank, resulting in larger bubbles. Many Italian sparkling wines, including Prosseco, are made in this fashion.
Some say the best sparkling wine is Champagne, but it really comes down to preference. While you might deem nothing better than the delicate fizz of a fine French Crémant, someone else might enjoy the robust effervescence of an Italian Spumante or German Sekt or Riesling. Bottom line: Try 'em all and decide for yourself.
Sparkling Wine vs. Champagne
Many people use the terms "sparkling wine" and "Champagne" interchangeably. But the truth is that these two libations are distinctly different. While all Champagnes are sparkling wines, not all sparkling wines are Champagne.
For a bottle of bubbly to get the official designation of Champagne, it must come from the Champagne region of France. Similarly, Prosecco must come from the Veneto region in Italy.
If you want to know if you're getting champagne (note the lowercase "c") rather than the real deal, be sure to check the wine label and look for its region of origin (aka its wine appellation). If it comes from anywhere other than the Champagne region, it's a bottle of bubbly.
But just because a sparkler doesn't come from Champagne, that doesn't mean it's not a great bottle of wine. For instance, Cava is a Spanish sparkler that follows the same production methods as Champagne. Likewise, Crémant is a group of sparkling wines produced with the same technique as Champagne — it's simply not made in the Champagne region of France. Instead, it's produced in one of eight designated regions in France, including Alsace, Bordeaux, Loire, and Bourgogne.
Is Sparkling Wine Dry or Sweet?
Sparkling wine is a versatile drink, ranging from dry to sweet. When looking for sparklers, there are a few wine terms to keep in mind.
For dry wine aficionados, opt for the following:
Brut Zero, Brut Nature, or Bone Dry:

The driest of the dry with no (or only trace amounts of) residual sugar.

Extra Brut or Extra Dry:

A dry wine with zero to six grams of sugar per liter.

Brut:

A dry wine with 0-12 grams of residual sugar per liter.

Extra Sec:

Dry sparkling wine with 12-17 grams of sugar per liter.

Sec:

A dry wine with 17-32 grams of residual sugar per liter.
If you're a sweet wine lover, look for these descriptors:
Demi-Sec:

A semi-sweet wine with 32-50 grams of residual sugar per liter.

Doux:

The sweetest

sparkling wine you can get, this sparkler has more than 50 grams of sugar per liter.
Different Types of Sparkling Wine
As mentioned, there are many types of sparkling wine that vary in sweetness and color, but there are a handful of styles that always seem to rise to the top. Here's a quick rundown of some sensational sparklers every wine lover needs to know.
Sparkling White Wines
The most popular sparkling whites include Champagne, Cava, and Prosecco. While those come from France, Spain, and Italy, respectively, there are plenty of fantastic options from the United States. 
Like Champagne, most American sparkling wines are made from a blend of three grapes: Pinot Noir, Chardonnay, and Pinot Meunier. When looking at the labels, consider the grape types that you generally prefer. Is Pinot Noir dry? Is Chardonnay overproduced? Is Pinot Meunier too acidic? That said, any Champagne labeled blanc de blanc ("white from white") is made exclusively from white grapes while blanc de noir ("white from black") is made from dark-skinned grapes.
For a delicious stateside sparkler, you can't go wrong with Usual Wines brut wine. This lightly effervescent and delightfully crisp sparkling wine is made in small batches from sustainably farmed grapes in Napa and Sonoma with no additives or added sugar.
Sparkling Rosés
One of the prettiest drinks you'll ever see, sparkling rosé spans everything from pink Champagne (the priciest of the bunch) to rosé Cava, made with native grapes Xarel-lo and Parellada. If you don't have hundreds of dollars to spare, try Usual Wines sparkling rosé, a dry, fruity sparkling wine made from California-born Syrah, Sangiovese, and Malbec grapes. Your wallet and palate will thank you.
Sparkling Red Wines
Even though white and pink sparklers get most of the attention, you can find some fabulous red sparkling wines. Among the most popular options are sparkling Lambrusco and Brachetto d'Acqui (both from Italy) and bubbly Shiraz from Australia.
Best Temperature and Wine Glass for Bubbly
Nobody wants a warm, flat bottle of bubbly. To make sure that never happens, always refrigerate your wine at least two hours before serving. Whether it's Champagne, Prosecco, sparkling brut, or sparkling rosé, the best wine temperature is 40-50 degrees. These cool temps keep the carbon dioxide intact and prevent the bottle from suddenly popping open.
Thirty minutes before opening your sparkling wine, remove it from the fridge to let it warm up just a touch. Doing so prevents the wine from over-chilling, which mutes delicate flavors.
If you can, serve sparkling wine in a Champagne flute — this type of wine glass has a long stem to ensure you don't transfer heat from your hand to the wine. Plus, the small surface area means the bubbles will oxidize more slowly, keeping the fizz fresh.
It's Time To Start Poppin' Bottles
Whether you're a wine newbie or seasoned enthusiast, there's something special about sparkling wine. With its bubbly character that literally percolates on the tongue, sparkling wine signals it's time for celebration.
Unlike other vinos, these carbonated delights undergo two fermentation processes to give them that fizzy character. Winemakers determine whether the wine will be dry or sweet, and any varietal can be made into a sparkling wine. Dry white and rosé varieties tend to be the most popular, but red sparklers would be just as fun at your next wine tasting party.
For more ways to expand your wine-drinking experience, don't miss our Usual Wines blog.