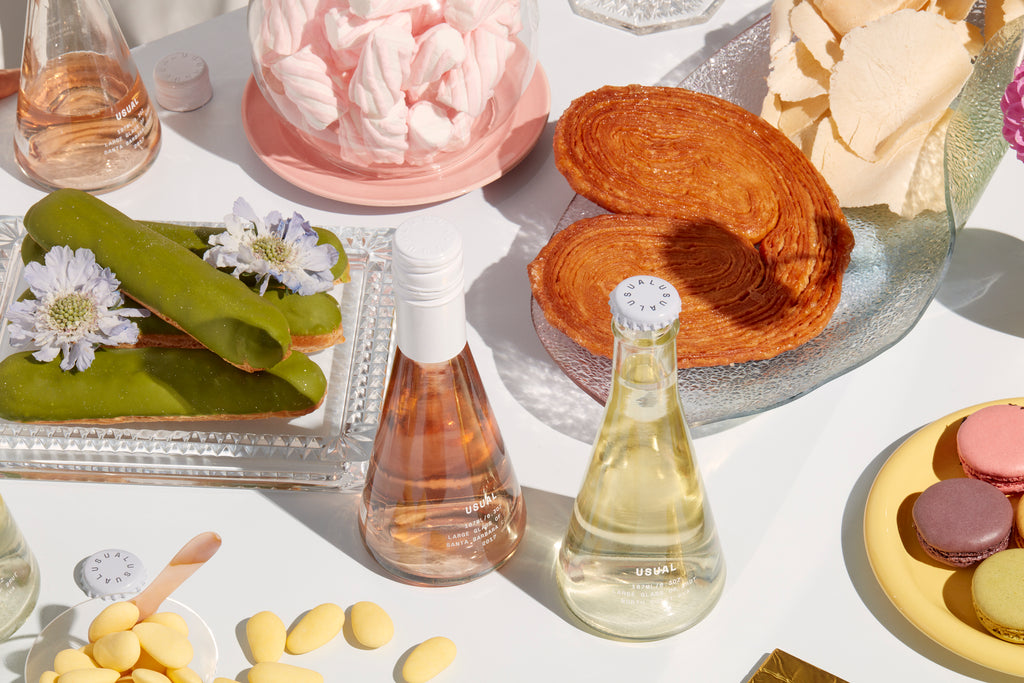 Wine Tasting At Home: The Ultimate Wine Tasting Party Guide
McKenzie Hagan |
As a wine lover, hosting a wine tasting party is one of the more creative ways to share your passion with friends, try new wines, and improve your palate. A wine tasting party is a type of dinner party (or luncheon) where you sample different bottles of wine, compare vintages and regional varieties, and enjoy some lively discussions. 
Where to Hold Your Wine Tasting Party
You can organize a wine tasting party in a variety of ways, from formal sit-down affairs to more casual cocktail-style parties. For most people, the best parties are low-key, intimate get-togethers that encourage invitees to try wines in a comfortable and welcoming environment.
One of the best places to host a wine tasting party is at home. At-home wine parties ensure you avoid the chaos of a bar environment or the distractions (and smells) that you might confront at a winery. 
The ideal location for the tasting should be a room with an abundance of light — and an absence of any strong odors or strange smells. The space should also have good airflow. Tasting wine in a dank basement or a room with the lingering scent of last night's Indian curry is probably not a good idea. 
Keep in mind that tasting wines in heavily-scented areas can alter the way you perceive it on your palate. The same wine tasted in a different environment will often taste completely different.
Wine Tasting Party Ideas for a Successful Tasting Event
An intimate party of 6-10 is the most comfortable tasting party size to manage. Anything bigger and things can get a little hard to handle. When you keep the group tight, you have a better chance of socializing, easy conversation, and involving everyone in the activities.
A great tasting will have a few wild-card style facts and surprises, which provide opportunities for everyone to learn – even the most experienced of wine drinkers.
Pick a Theme and Format for Your Wine Tasting Party
A unique theme will help you decide which types of wines to purchase in preparation for your tasting. Get imaginative with your theme and consider choosing your party decorations around it. Wine tastings can vary greatly, so a theme can make it a little more fun and focused.
You can start the wine tasting with a light aperitif to set the vibe. A small glass of bubbly will relax your guests before the tasting begins.
Hiring a sommelier to explain the wines is a nice touch, although it's not always an option. Either way, make sure you have enough glasses along with some extras in case of unexpected breakage. Also, remember that white wines and rosé wines must be chilled, so have some chilled wine wraps or ice buckets ready.
Your wine tasting event is all about group involvement and conversation, so be sure to arrange the seating layout to promote this. You can have guests sit down in a specified area or have a more freestyle atmosphere — whatever works best for you and encourages interaction. 
Here are some fun themes for exploring new wines:
A horizontal wine tasting:

This type of tasting enables you and your guests to compare different wines that hail from the same vintage or represent the same style of wine. You can highlight the differences in winemaking styles from different producers and choose your favorite wines in the lineup.

A vertical wine tasting:

This type of tasting focuses on just one wine over a span of years. The goal is to observe and evaluate the similarities and differences of each vintage. This type of tasting is a great way to demonstrate how weather affects wine and to gain an understanding of varietal style and composition.

Different wines from specific geographic locations:

To get a literal taste of how region plays such an integral role in the taste of wine, try different wines from areas that intrigue you. Compare a selection of Barbaresco wines from Italy's Piedmont to different vintages from neighboring Barolo, or a selection of Chenin Blanc from South Africa. 

One wine from two different regions:

This type of tasting compares a single type of wine that is grown in different countries or regions. For example, bottles of Sauvignon Blanc from New Zealand versus bottles from France.

Blind tasting of wines under $20 and wines over $50:

This type of tasting is a whole lot of fun. The labels are covered up, so only the host or sommelier knows the identity of each wine. Half the wines are everyday picks priced under $20, and the other half are premium fine wines. Participants taste the wines and rate them from low to high. The results of this type of tasting are almost always surprising.

Grape variety or varieties

: How about a rosé wine tasting party? Pick a selection of wines of the same color that are made from different grapes. It's a fun way to taste a full spectrum of varietal wines.
Who Brings the Wine?
Once you've decided on a location and theme for your wine tasting party, it's time to decide who will be providing the wine. While some hosts do this themselves, there's nothing wrong with hosting a potluck-style wine tasting. 
If everyone contributes a bottle or two (including you), you'll promptly assemble a diverse combination of wines to taste. A typical wine tasting of 6-10 people will have 6-12 wines. Work out the price range of the bottles you want to taste and how many bottles each participant should bring. If you have a trusted wine shop, you can ask them for help with this. 
Wine Tasting Music
Music is an important element of any party – and you certainly want to set the right tone for a wine tasting party. Think of music as the soundtrack that will transport guests to the location of the wines they're tasting.
If you're drinking Italian and French wines, select music from those countries. If you're trying New World wine, how about upbeat and summery jams from New Zealand or South Africa?
Once you pick the theme and appropriate playlist, keep the volume low. It should be background music to enhance the ambiance without hampering any conversation.
Itemized Checklist for a Wine Party
Ready to get the party started? Well, not without these must-haves. Here's a handy checklist of wine party essentials you don't want to forget.  
A corkscrew

Bottles of water

Decanter 

Bags for covering the original wine bottles

A funnel

Wine pourers

Glass charms or a wine glass marker

Quality glassware

Dumping bucket

Tasting sheets

Pencils or pens

Chiller bags for white wines
Getting Started With Your Wine Tasting
While wine and cheese often go hand-in-hand, when it comes to a wine tasting party, resist the urge to serve cheese at the start. Instead, serve plain crackers, sliced baguette, and distilled water in between wines to cleanse the palate. 
Cheese affects how you taste wine, so hold out on serving it and other flavorful hors d'oeuvres until after all the wines have been tasted. Gourmet cheeses, cured meats, fruit, nuts, vegetable sticks, and pâté make for excellent wine pairings, but a poorly placed charcuterie board can almost ruin an otherwise exceptional lineup of wines.
Ensure you have a rough plan of how the event will develop, and that each bottle of wine is properly served in regard to temperature and aeration.
Elect a pourer and prepare a list of questions to ask everyone after each wine is tasted. As mentioned, make sure you have enough wine glasses — ideally, each guest will have a new glass for each wine. 
It may be worth renting glassware from a local event company for the occasion. Otherwise, you'll need to rinse and dry the glasses in between every tasting, since residual water can interfere with the taste of a wine. 
For a more relaxed event, it's OK to reuse the same white wine glass for all of the whites and the same red wine glass for all of the reds. Some tastings even ask the guests to bring their own glasses, which can then be placed in a box at the end of the night and taken home to be washed. 
Once everyone has a small amount of wine in their glass, you can begin with the tasting and your questions. The right amount of wine in the glass is crucial. Too little wine, and it's not possible to taste and smell all the components; too much wine, and it cannot breathe in the glass. A thumb's width is a good guideline. 
Start Your Wine Tasting Right 
The order in which you taste the wines is important. Typically, you should work your way from dry to sweet with white wines, and light-bodied to full-bodied with red wines. 
Each wine tasted should have five minutes of evaluation and note-taking time, and ten minutes of contemplation and discussion afterward. Don't be too strict about time allotment, and make sure to keep things fluid and lively. Remember, a wine party is supposed to be fun. Avoid any long lectures on winemaking by the host, and keep things focused on group discussion. 
Assessing Each Wine 
Evaluate each wine's appearance, taste, and smell. Is it dry, off-dry, or sweet? What about the acidity or the tannins?  The most common notes for red wine varietals include spices, fig, blackberry, cherry, cranberry, fig, plum, raisin, raspberry, and flowery tones. 
On the other hand, white wines commonly have notes of apricot, banana, citrus, kiwi, pineapple, and floral and tropical flavors. Red wines are tannin-rich and often astringent, while white wines create more acidity on the palate.
Discuss the intensity of aromas, how long they linger on the nose and the overall impression of the wine. How intense are the primary flavors (bitter, sweet, acidic) and how is the persistence of the wine?  
Picking Your Favorites
At the end of each wine tasting, have the group express an overall assessment of the wine quality, referring to the notes and impressions collected during the tasting session. The goal of a group wine tasting party is to assess the quality of each wine based on personal evaluations. How do you feel about the wines you tasted and what story do those wines tell you?
Finishing Up
After the tasting is complete, and palates are looking for new sensations, bring out the meat and cheese boards and any other appetizers you have. Offer your guests a selection of different hors d'oeuvres that can be eaten while mingling and holding a glass of wine. 
Don't forget to have a dessert wine to serve before everyone heads home. And don't feel that you need to serve dessert — sweet wines such as Tokaji Aszú or Vin Santo make a perfect after-dinner conversation piece all on their own.
Make It a Regular Event 
While it might sound a bit daunting at first, having a wine tasting party is quite doable once you know the basics, get organized, and follow through on a few key guidelines.
Whether you want a dressed-up evening event indoors or a casual afternoon soiree in your backyard, the bottom line is that a wine tasting party is the perfect time to socialize, learn, have fun, and embark on an adventure of the senses. Just be warned: Once you have a successful wine party, you (and your guests) might want to make it a regular event. Cheers to that!