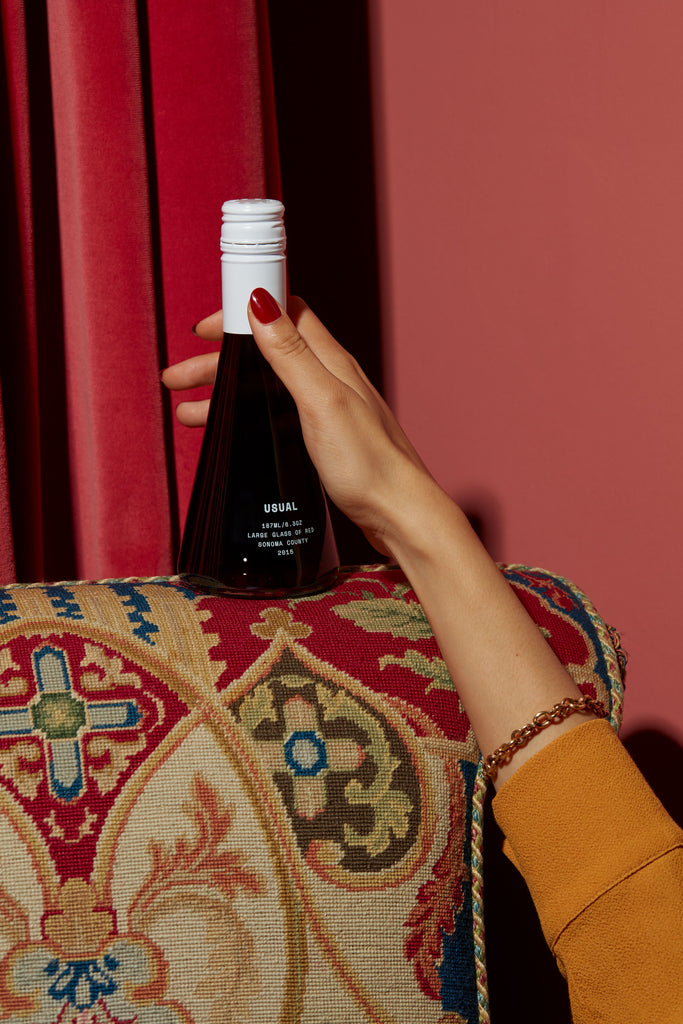 What is Zinfandel Wine: Exploring & Serving Zinfandel Wine Correctly
McKenzie Hagan |
For red wine enthusiasts, there's nothing like a glass of Zinfandel. Beloved for its jammy, fruity, robust flavors and rich hues, it's one of those can't-miss choices whether you're mingling at a wine tasting party or simply having a sip at home. (It's no coincidence we chose it along with Cabernet Sauvignon as part of our Usual Wines red wine blend.) 
But while Zinfandel wine might be best known as a dry red, it also has a "white" variety that can be deliciously sweet. In this guide, we'll explore the details of this popular wine, including where it originates, how it compares to other types of wine, and the best ways to enjoy it. 
What Is Zinfandel Wine?
Often called "Zin" for short, Zinfandel wine comes from the eponymous black-skinned wine grape. It's also known as Primitivo in Italy and Crljenak Kaštelanski in Croatia. (Don't worry, we won't ask you to pronounce the latter. But if you're determined, check out this YouTube video.) 
Zinfandel is among the most popular wine grapes grown in California, especially Sonoma County (including the Russian River Valley), Napa Valley, Central Valley (including Lodi), and the Central Coast. It's also cultivated around the world in warm, sunny regions in Italy, Chile, and South Africa.
A curious tidbit of history: Even though Zinfandel is most commonly associated with California, it originated in Croatia and likely found its way to the United States in the mid-19th century.
Different Types of Zinfandel Wine
Although all Zinfandel wine comes from red Zinfandel grapes, winemakers can also use this varietal to produce white wine, which is more of a blush wine that has a pinkish hue similar to rosé. 
Red Zinfandel is typically dry with an intense ruby color and a rich jammy taste (think blackberry, black pepper, plum, and licorice) and smoky finish. It's marked by moderate tannins and medium-to-high acidity. It also has a high alcohol content compared to the average glass of wine — it's usually 14-16% ABV as opposed to 12% alcohol, which is the standard in the United States.
White Zinfandel can be dry or sweet with lots of fruit flavors, including melon and bright red fruits like strawberry, cherry, and raspberry. Unlike its red counterpart, white Zinfandel has lower alcohol levels (closer to 9-10%), lower tannins, and a medium-to-low acidity with no bitterness. When you consider this combination of characteristics, it's no surprise why it's a favorite among wine drinking newbies. Also, let's be honest — white Zin tends to be cheap. But we're not judging. 
How Is Zinfandel Wine Made?
As is the case with all winemaking, production begins as soon as the grapes are harvested and pressed. Next comes fermentation, arguably the most crucial step since it's what turns the grape juice into wine. 
If the winemaker disrupts the fermenting process before it's complete, there will be more residual sugar, resulting in a sweeter wine. If the winemaker allows the fermentation to fully run its course and lets the yeast consume all the available sugar, the end result will be a drier wine with lower sugar content.
As mentioned, all Zinfandel wine is made from the same grape. But when it comes to making white Zinfandel, the skins are quickly removed after crushing, creating that signature pink hue and lighter body.
How To Enjoy Zinfandel Wine
You might not need us to tell you how to enjoy wine, but that doesn't mean we don't have a few helpful tips for making the most of your wine drinking venture. (We have a ton of experience in this department, so hear us out.) 
With that in mind, here's what you need to know before uncorking your next bottle of Zinfandel wine, including understanding the ideal red wine temperature for serving, fantastic food pairings, and the type of glass you may want to use.
Temperature
When serving Zinfandel, it's a good idea to follow the general guidelines for ideal wine temperature. White versions are best served chilled at around 45-50 degrees Fahrenheit. Doing so will maintain its crisp taste and prevent it from coming off too sweet. You should also chill your wine for a couple of hours before setting it out for 30 minutes before opening.
For red Zinfandel, serve it like you would other red wines — a bit cooler than room temperature, from 60-65 degrees. While you might have thought room temp is the way to go, that's too warm and could render the wine flabby and bitter. You can place fuller-bodied Zinfandel wine in the refrigerator for 90 minutes, then open the bottle and let it breathe for 10 minutes before serving. 
Food Pairings
Since there are two main types of Zinfandel, we'll provide food and dessert suggestions along with wine and cheese pairings for each. 
Red Zinfandel
This flavorful wine pairs perfectly with just about any meat, including chicken, beef, pork, lamb, and turkey. Barbecue dishes, curries, pizza, pasta, and anything smoked (including salmon) are also particularly well-suited for this red. Consider pairing it with hard and hearty cheeses, such as cheddar or Manchego. For dessert, you can't go wrong with dark chocolate, caramel, or pecan pie.
White Zinfandel
This fruity, easy-to-drink wine is a versatile match for seafood (everything from crab cakes to grilled shrimp), pork, and pasta (particularly those with creamy sauces). It's also a refreshing contrast to the herbs and spices in Creole and Asian cuisines. As for cheeses, opt for milder selections, such as Gruyère, Havarti, and mozzarella. For a sweet finish, sip this white with fresh fruit, lemon cake, fruit-based pies, and creamy desserts like cheesecake, crème brûlée, and pudding.
Type of Glass
It might sound like a marketing ploy, but the type of glass you use to drink wine directly impacts how you perceive it. In fact, scientific researchers have discovered that the shape of a glass affects how wine vapor rises, which in turn influences its taste and aroma. 
For red Zinfandels, a standard red wine glass is great as is a wide-bowled glass that will help you appreciate the depth of flavor. It also gives you enough space to swirl before you sip, allowing the wine to breathe and release its fragrance.
That said, we must admit our full-bodied Usual Wines red wine blend of Zinfandel and Cabernet Sauvignon tastes perfectly delicious straight from the bottle. (You won't miss a note of the bing cherries, dark chocolate, and fresh violets.) 
For white Zinfandels, a standard white wine or sparkling wine glass will do. These generally have a smaller bowl that preserves and delivers the bright aromas, retains a cooler temperature, and expresses more of the wine's acidity.
Add Some Zing With Zinfandel
Whether you're making plans for a special occasion or simply want to upgrade your weeknight game plan, it's hard to miss with a glass of Zinfandel wine. While this popular wine is practically synonymous with California, it's actually a Croatian original that has been around for centuries.
Even though most people might think of Zinfandel as a bold, dry red wine, it also comes in a white version, which really is more of a rosé with its pretty pink hue and sweetly refreshing flavor.
No matter what color Zinfandel you choose, you can enjoy it with a variety of dishes, ranging from savory meat and fish to pasta and fruity desserts. For more helpful tips and insights that will add some pizzazz to your wine endeavors, be sure to visit our Usual Wines blog.