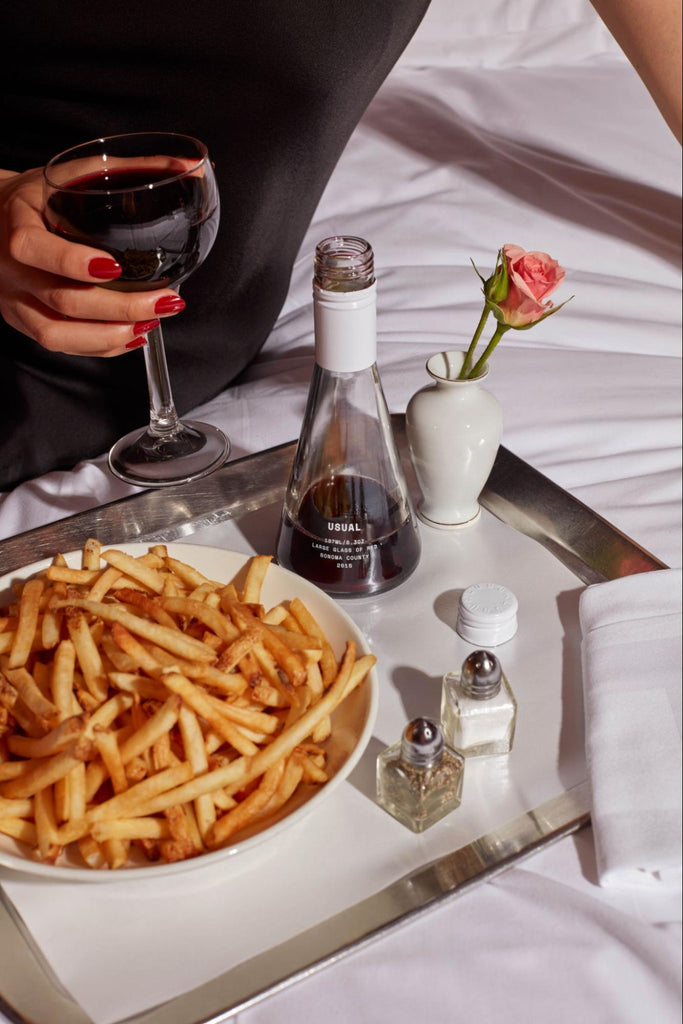 9 Best Sweet Red Wines Every Wine Lover Should Try
McKenzie Hagan |
If you prefer your wine on the sweeter side, then you should get to know these nine sweet red wines. Ranging from our favorite sparkling red options and beautiful red dessert wines to full- and light-bodied classics, we've compiled a list of varietals everyone with a sweet tooth won't be able to resist. Put your tried-and-true Pinot Noir or Merlot aside for the night, and discover a few new favorites.
Understanding Sweet Red Wine Brands and Their Making Process
There are various techniques utilized to produce sweet red wine.
Occasionally, winemakers deliberately halt the  fermentation process  by killing the yeast in the wine. This action leaves a higher residual sugar content since the yeast can't convert all of the grape's natural sugars into alcohol, resulting in a sweeter tasting wine.
When producing a sweet sparkling red, the wine undergoes a second fermentation. Here, the winemaker adds a sugary wine blend (known as a dosage) to the fermented wine, boosting the  sugar content and giving the wine its effervescence.
Another method involves using noble rot or botrytis, a beneficial fungus. The fungus perforates the grapes' skin, causing the grape water to evaporate. This process concentrates the sugar in the grape juice, leading to a sweeter wine.

Sweet red wines and sweet white wines have a similar production process. The notable difference is the inclusion of grape skins in red sweet wine production. These grape skins lend the wine its rich red color, adding tannins and other complex flavors.

Explore the Sparkle: Sweet Red Wines that Shine
Sparkling red wines may not be as common as their white counterparts, but they are certainly worth trying.
For an interesting twist on a conventional bubbly, consider sweet sparkling reds. While they may not have the mainstream popularity they once enjoyed, these wines are incredibly delicious and make for an ideal accompaniment to an outdoor dinner party.
Let's dive into the wine names of some of our top picks.
1. Lambrusco
This italian sparkling red actually comes in several different sweetness styles, ranging from very dry to very sweet. If you're in the market for a nice sweet version look for the words "dulce" or "semi-seco," which mean sweet and semi-dry in Italian.
Tasting notes: blueberry, sweet cherry, red fruit, violet
ABV: Lambrusco is a great choice for those watching their alcohol intake; it comes in at about 10-12%.
Acidity: Medium-High
Tannins: Low-Medium
2. Brachetto d'Acqui
A delicious sweet sparkling red from Piedmont, Italy,Brachetto d'Acqui pairs perfectly with chocolate. This sweet yet complex wine is a lovely treat, and better yet, it's so low in alcohol you could happily finish off the entire bottle.
Tasting notes: rose, raspberry, cotton candy, cherry
ABV: 5.5-6%
Acidity: Medium-High
Tannins: Low 
3. Sparkling Shiraz
Hailing from South Australia, sparkling Shiraz is a world away from its Italian cousins. With deep, savory flavors and plenty of tang, this bubbly treat pairs well with a range of BBQ options.
Tasting notes: blackberry, tobacco, pepper, licorice
ABV: 12.5%
Acidity: Medium
Tannins: Medium-High 
Full- and Medium-Bodied Sweet Red Wines

Sweet red wines with a medium to full body usually taste fruity on the tongue, rather than overly sweet. If you're not a fan of intense, robust reds like Merlot, you may prefer a slightly sweeter alternative.
Here are a few of our favorites.
4. Dolcetta
Another Italian beauty, this full-bodied red wine literally translates to "little sweet one." While it doesn't scream sweet like some of the other wines on this list, Dolcetta is incredibly fruity.
Tasting notes: violet, plum, black pepper, blackberry
ABV: 11.5-13.5%
Acidity: Low-Medium
Tannins: Low
5. Dornfelder
While not very popular in the United States, Dornfelder is a sweet red wine that German wine drinkers can't get enough of. Dornfelder comes in a range of styles from dry to semi-sweet to very sweet. It also has a low alcohol content and lots of fresh fruit flavors.
Tasting notes: cherry, blackberry, herbs, spices
ABV: 11.5-12%
Acidity: Medium
Tannins: Medium
Light-Bodied Sweet Red Wines
For those who love their wines light on the body and sweeter on the palate, these two delicious red wines are your best choice.
6. Beaujolais Nouveau
Produced in France, Beaujolais Nouveau is considered the world's fastest wine because it can go from grape to glass in just 60 days. It's a wonderfully fruity wine with low tannins and high acidity levels.
Tasting notes: candied fruit, figs, banana, bubblegum
ABV: 10-11.5%
Acidity: High
Tannins: Low
7. Gamay
While Beaujolais Nouveau is produced using Gamay grapes, the two wines are different because of the different ways they're produced. Nevertheless, if you're on the lookout for a light-bodied red with fruity sweetness, Gamay just might be the ticket.
Tasting notes: pomegranate, violet, blackberry, potting soil
ABV: 10-11.5%
Acidity: High
Tannins: Low
Indulge in Sweet Red Fortified Wines
While red wines are often robust and tannic, some of the world's sweetest wines are red! Fans of red dessert wines, brace yourselves for an intense sweetness, comparable to some popular sodas.
8. Ruby Port
Traditionally enjoyed as a dessert wine, ruby Port is a proud creation of Portugal. Although they come in a range of varieties, including white Port, rose Port, and tawny Port, Port wines are most popularly red.
Tasting notes: plum, chocolate, raisin, black cherry.
ABV: 15% and over
Acidity: Medium-High
Tannins: High
9. Black Muscat
Not quite as sweet or boozy as Port, black Muscat is a rare, sweet red wine that can be challenging to find. If you are so lucky, you can expect a highly aromatic, very sweet dessert wine with flavors of candied fruit and cinnamon.
Tasting notes: candied apple, rose, violet, cinnamon
ABV: 10%
Acidity: Medium
Tannins: Low
How to Serve Sweet Red Wine
For sparkling reds, such as Lambrusco, serve chilled just like you would a white sparkling wine. You can pair this bubbly red with a range of different dishes, but to keep it in line with its Italian roots, pizza is a great choice for what goes good with wine, creating a delightful harmony of flavors
Light-, medium-, and full-bodied sweet reds are best served a little cooler than room temperature. Try to serve them in a glass with a wide bowl, so you can capture all of the wonderful aromas as you sip.
Fortified wines should always be served in a small dessert wine glass because they are highly alcoholic and a little goes a long way. Port, in particular, pairs beautifully with blue cheese, or for a super indulgent treat, sip it alongside a dessert that's equally sweet, such as chocolate cheesecake.
Sweet Wine Dreams: Finding the Best Sweet Red

Our compilation of sweet red wines just skims the surface of the excellent options available. Numerous other brands and varietals await discovery, including exciting red blends and other sparkling treats.
We understand that sweet reds aren't everyone's preference, but for those who enjoy fruity flavors like cherry, raspberry, and blackberry, they're a fantastic change of pace from drier red wines. Lovers of sparkling wine might enjoy deviating from traditional white Proseccos or Champagnes and sampling a sparkling red instead.
In your quest for the best sweet red wine, be adventurous and open-minded. Sweet red wine brands are varied and cater to a range of preferences. You never know, your new favorite could be waiting in your next glass.