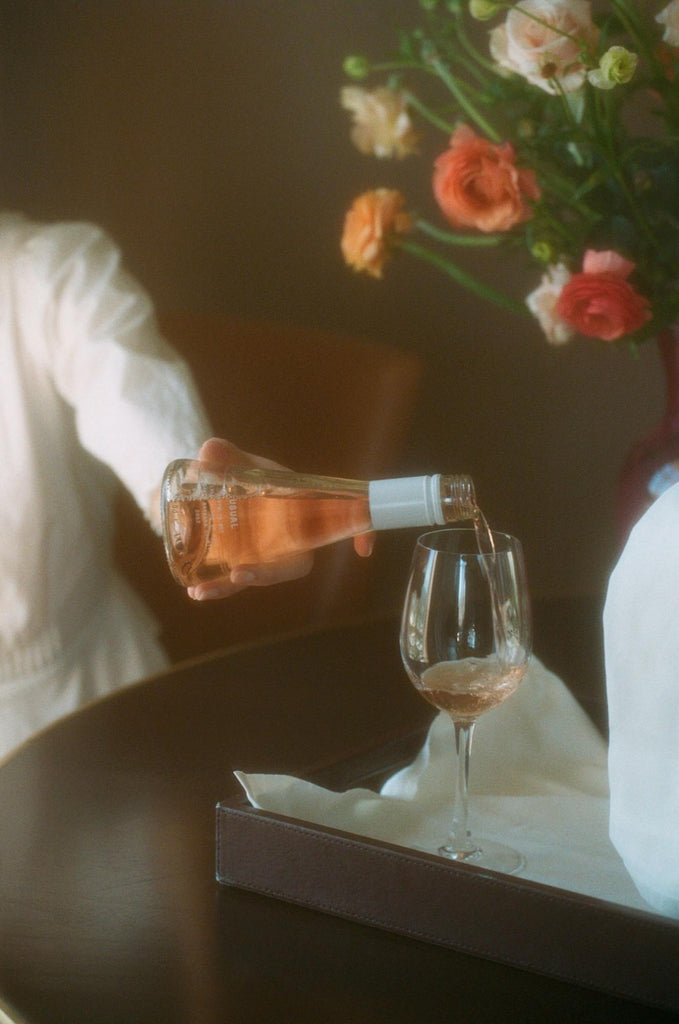 DIY Wine Glass Rack: Stylish Storage Solution for Your Wine Glass Collection
McKenzie Hagan |
As a devoted wine lover, you care about properly storing your wine bottles — and you also care about safely stashing your stemware. When you need a little extra storage space, a wine glass rack is an excellent solution. The thing is, many wine glass storage racks can cost a pretty penny. (And we all know that money is much better spent on a great bottle of wine.) That's where this handy list of DIY projects comes in. 
From rustic creations to modern designs, get ready to roll up your sleeves and create your own stylish glassware storage solution. We've curated a list of five winning ideas for making a DIY wine glass rack. But first, let's review a few of the best practices for storing and maintaining your wine glasses — and why the types of stemware you choose makes a difference.
Proper Wine Glass Storage and Maintenance
You know that proper wine storage is a must to keep your bottles of wine from going bad. Likewise, proper stemware storage is essential for keeping them in good shape.
If you're like most people, you probably just keep your glassware standing upright in the kitchen cupboard, which is fine. You could also store them bowl-down — just make sure that your shelves have a padded liner to prevent chipping. Either way, your wine glasses should have enough space to minimize the risk of knocking each other over and shattering.
Another option for storing your stemware is a wine glass rack. It's an excellent way to avoid tight cabinet spaces, plus it can spruce up your home decor.
Naturally, your glassware will eventually get dusty no matter how you store them. Gently wiping the glass with a soft cloth before using is typically enough. But if your glasses have spots or streaks, you may need to run them under some lukewarm water and clean with a slightly soapy sponge.
Helpful tip: A hanging rack that holds glasses upside down won't collect dust inside the bowl. Keep this in mind when considering which kind of wine glass rack you'd like to have in your space. 
A Quick Word About Different Types of Glassware
Along with proper stemware storage, it's worth noting that having a variety of wine glass styles is a good idea. Scientific research shows that the shape of a glass affects how wine vapor rises, which influences the taste and fragrance you experience. 
Smaller glasses with a narrow mouth will minimize evaporation and intensify the aromas while larger glasses allow the wine to breathe and release its fragrance before you take your first sip. 
For more riveting details on choosing the right drinking vessel, don't miss our guide on the different types of wine glasses. (Although we must admit we can't say enough about enjoying it straight out of the bottle — a Usual Wines bottle, that is.) 
5 Easy DIY Wine Glass Rack Projects 
Now that you know about the importance of proper stemware storage and glassware selection, it's time to make a safe place for these precious pieces. With a positive attitude and a power tool or two, you can create these DIY wine glass racks without breaking a sweat (or your bank account). Even better, most of these creations also store bottles of wine, making for a fantastic two-in-one combination. For more inspiration, be sure to check out our roundup of fun DIY wine racks. 
1. Wine Glass Rack
It doesn't get much easier (and affordable) than this DIY wine glass rack that perfectly blends form and function. To transform the space beneath your kitchen cabinet into a simple yet chic wine glass rack, all you need is T-Molding, a circular saw and drill, and screws. 
The instructions are laid out in six easy steps with accompanying photos and video, so even the most mechanically challenged wine lover can make it work. Before you know it, you'll have a wine glass holder where you can store your stemware upside-down. (Less dust, less fuss!)
2. Wine Bottle and Stemware Rack
To craft this wine bottle and stemware rack, you can use any type of wood from reclaimed wood pallets to scrap wood. You'll need a few basic supplies along with the wood, plus a drill, circular saw, jigsaw, and hammer. 
You'll definitely need to be good with a measuring tape, but the six-step process is easy to follow with illustrated diagrams. The end result is a secure wall-mounted wine glass rack that stores and showcases both your wine bottles and wine glasses.
3. Modern Standing Wine Rack
This DIY project might be called a wine rack, but it's really an all-in-one home bar cart with a wine bottle and glass rack. The finished product looks like something out of a Pottery Barn catalog, but the instructions and accompanying images will help you nail this one down even if you've never taken a woodshop class. 
You'll need some pine and plywood that you can get cut at your local hardware store, plus some optional wood stain and spray paint. Bonus: This chic piece is a stylish addition for your space and will look perfect in a little nook of your dining room, living room, or kitchen. 
4. DIY Wine Cabinet
You don't need a background in woodworking to create this wood wine glass rack, but it certainly wouldn't hurt. Along with a variety of veneer plywood in different sizes (birch or maple are recommended), the supply list requires drawer slides, a drawer pull, a wood finish, and a number of hand tools (Kreg jig and circular saw anyone?). 
Altogether there are 12 steps, and the free printable plans make it easy to follow and ensure you don't miss anything important along the way. Stick with it and you'll have a wine glass storage solution overflowing with rustic charm. 
5. Plywood Art Wine Rack and Glass Holder
This artsy take on a wine rack and glassware holder will glam up any space thanks to its Art Deco-esque geometric pattern. To get this project started, make sure you have the right materials, including dowels, plywood, poplar board, wood glue, and wood stain. 
While the 11-step tutorial calls for various tools, you could simplify things by having the pieces of wood precut at a hardware store. Bottom line: If you like puzzles, you'll enjoy putting all the pieces together for this eye-catching piece.
Step Up Your Stemware Storage With These Creative Ideas 
Whether you're storing regular wine glasses to pour your favorite red wine or Champagne flutes to enjoy a delicious Brut bubbly, using a wine glass rack can be a great way to keep your stemware safe and in the best condition possible. While there are plenty of store-bought options for you to consider, there's nothing quite as satisfying as doing it yourself. 
So, if you're in the mood to get down and crafty, these DIY wine glass rack ideas will allow you to properly store your wine glasses (and even wine bottles) and zhush up your space at the same time. For more ways to expand your appreciation of wine and maximize your wine-drinking experience, be sure to peruse the Usual Wines blog.